1. Input your ATS/CRM requirements…
Our simple user interface makes this quick and easy!
We've really got your back here! You can input up to 150 requirements in as little as 15 minutes. The more requirements you input, the more refined your shortlist will be.
It's good to know exactly what you're looking for before you start this process. If you need some help with this, tap into our expert recruitment technology consulting services. We offer an online workshop that will open your eyes to what's out there, and map your process from end-to-end (in real-time) to ensure that no requirements are left uncovered. We'll even help to tune your process to make sure that you're operating with optimal speed and efficiency.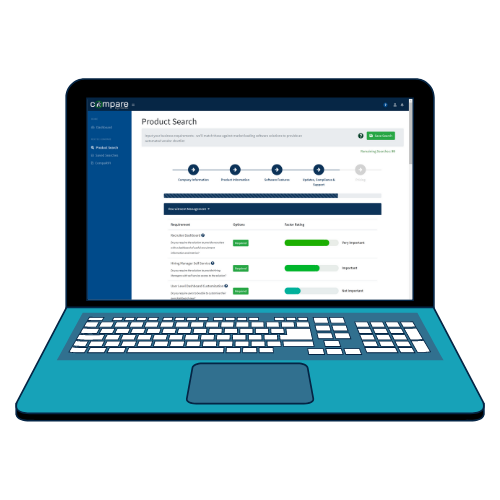 This is where the magic happens…
Our sophisticated matching algorythm will review all of your requirements, cross reference them against over 180,000 bits of vendor information, and compare every vendor in our marketplace. Automatically shortlisting the best vendors in the market, based on your specific needs. It's completely impartial and it's completely fee-free.
By the way… All of this happens in just a few seconds!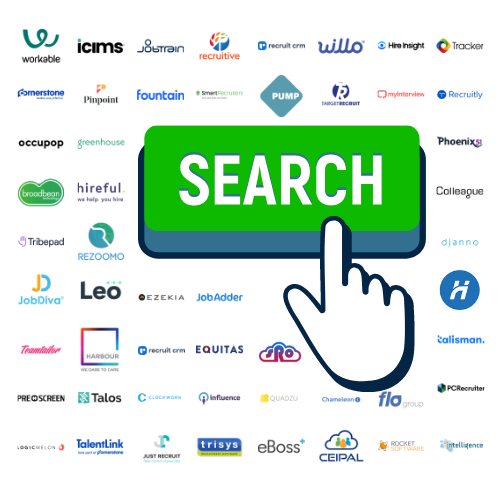 3. Your ATS/CRM vendor shortlist…
Yes, that really just happened…
So, this is the moment where our users say "Wow!" having spent just minutes shortlisting the best vendors in the market. A process with an average duration of 6-8 weeks.
All vendors will be ranked in your shortlist, with their own match score. We'll highlight any areas where each vendor falls short, and give you access to a unique showcase of information for each vendor. Here you'll find company information, videos, screenshots, features, demo videos, clients, reviews and more…
Sit back and relax. We'll automatically document your requirements and submit them with your details to each vendor. They'll know who you are, what you're looking for and what's important to you, so you won't need to keep reiterating the same requirements over and over again during each conversation. This saves a great deal of time and ensures that nothing gets missed.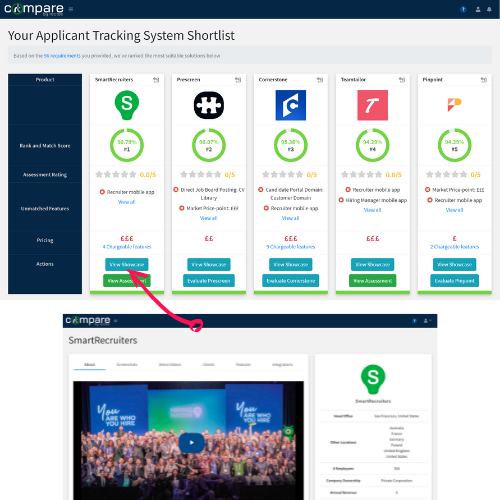 Evaluate vendor demonstrations…
Optionally, and as part of our free service, in just the click of a button…
When you receive a demonstration from a vendor, simply click "Evaluate" on your shortlist, and we'll instantly turn your requirements into a simple yet comprehensive evaluation. Using our quick and easy star rating system, we'll help to ensure that you can perform a fair and consistent evaluation of each vendor. This all comes part of our free service offerring.
We'll add your overall evaluation score to your shortlist too, so that you have all of your feedback side-by-side to support you decision!
Tell your network – Rectec Compare is free!
Our unique comparison and evaluation services are available fee-free for organisations around the world, help us spread the word!